I recently went on a trip to Manhattan, New York during Thanksgiving weekend with 18 year old fashion photographer, Nuru Kimondo. It was our first time EVER visiting New York. All I can say is:

Amazing.
Amazing.
AMAZING!

I would love to live there!!!
I had the opportunity to work with hair stylists, models, wardrobe stylists, and random new yorkers that took a chance with us, that believed in our talents, took time out of their schedules to work with us and were impressed by our previous work.

November 26th, 2010.



We stayed in the Upper West side of Manhattan. I love the area; 10 minutes away from Times Square, few blocks from Central Park, people were minding their own business, it wasn't as busy as downtown, but busy enough. First place we went to was
Famiglia's Pizza.

BEST PIZZA EVER!!! Bonus: Famiglia pizza is all natural!!
But we were pretty hungry at the time, so any food would have sufficed.


A majority of my life, I've been told New York is 'tough' and 'rude', but I didn't get that feeling at all. Only one little thing: when I sneezed, not one person said, "Bless You."
I sneezed in a cab, sneezed in CVS, sneezed downtown, and I waited.
and waited.
...and waited.

Chicago has spolied me with kindness. I'm so used to getting 5 to 10 bless you's from Chicagoans when I complete just half of a sneeze.
Upper Westside New Yorkers I encountered don't say 'bless you', but I'm ok with that.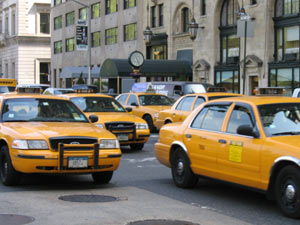 Another thing that tripped me out were the taxi drivers.
OH MAN! I had to put on a fake NY accent with an attitude so they wouldn't keep driving us in circles. If you look like a tourist, then THEY look lost, sound lost, drive lost, then all the money in your pocket is lost. 5 out of 6 of the cab drivers we had were a HOT MESS. Tell me why it cost $30 for a 10 minute drive? Makes no sense!! I never got into a taxi and they actually asked ME for directions. Three cab drivers asked us,
"How do you get there?"
I was looking like, "No you didn't just ask me for directions.
No.
You.
Didn't.
:|"

After the drama unfolded for the day, we stuffed our bellies and walked around to take in the scene. We were in awe that we were actually on the streets of New York. Around 2am, we went to bed to get ready for the next day.

November 27th, 2010
It was raining. Bad.


Nuru Kimondo usually works on location, but the rain gave us ideas. We had to think quick and work fast throughout the day. It turned out splendid.
We worked with hairstylist Catherine Miller and Fashion Designer, Larissa Muehleder, of Eminent Fash .
Catherine was very cool, easy to work with, and delivered gorgeous curls on the models!

Larissa was full of crazy energy and assisted the models on set!

Our first shoot was with model Christy Ai of Model Service Agency NYC.



Christy was wonderful to work with and had a smile on her face the whole time. When Nuru first started shooting, Nuru asked her, "Give me fierce poses!"
Christy responded, "Fierce? I'll show you fierce."
And she did!!!
Christy is an amazing fashion model. Book her now!

Second model was Emily (Emm) Balanzer of Epic Models NYC.



I love how Emily models! She swayed and cooed with the wind; Emily had her own style; she emulated what the designer wanted to perfection. Emm modeled head to toe, didn't forget about one little thing. Check her out on mayhem and book this girl!!

Third model was Sheila Johnson of Basic Model Management(NYC).

Her and I had been talking for a few months prior to shooting, so I was very familiar with her work and excited to try something new with her.

Stylist Sila Ozgun stepped in to dress up Sheila. She brought European inspired ensembles with a touch of class; beautiful garments and really hot thigh high BOOTS! Can't show you the full outfit yet. :)



Sheila was a trooper! She modeled in 20 degree weather! After a few hours, the team was freezing cold, so we had to end the shoot alittle early. We were so whipped by the end of the day!!

Check Part 2 for the rest of our NY Trip!