So..... I forgot the password to my blog for the past 2 months. *face palm* I feel SO out of touch and out of date :| So much to catch you up on! Here we go...
So in June 2010, I had a mini 4 day vacation in Dallas, Texas. That was fun. I loved the hot weather. Met up with my cousin ZeEnna Jenkins, she models. When she came to Chicago in 2009, we got to collaborate with one of my most favortie photographers, JBody Studios. The shot is in my gallery 'Beauty' category.
www.dvixenmakeup.com
We didn't get to shoot together this time. I was so scared of the airport snatching all my makeup, and I would have died and/or slapped somebody if the airport had to take away ALL my makeup that I've spent so many years and so much $ to build. But alas, I blew it out of proportion. Once I got to Midway Airport, they only checked the small, clear bag pouch and my purse.... and that was it. Security needs to step their game up. Had me all scared for no reason >:( So yea, we didn't get to shoot this year unfortunately.
And everytime I hear Usher's 'OMG' song, I have to dance. Every single time I hear it, it's like my body gets possesed by it and I start doing this stupid looking robot dance and shake my afro at the same time.
I don't like that >:(
but it's fun :D
July has been my busiest month to date. For starters, I was the lead makeup artist for CLEONS Fall 2010 Ball Collection. I created the makeup look for the show about a month in advance, Chad Leon(the designer) approved, and the whole staff proceeded to make history on July 10th, 2010. The show was on display at the DuSable Museum in Chicago, IL. It was a very professional, exciting, one-of-a-kind, crazy, colorful show and I am really happy that I was chosen to be apart of it. Here are a few pictures from the show of the makeup I did.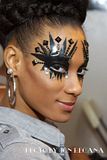 Michelle McNeil | Jon Recana Photography for CLEONS
Michelle Mcneil | Jon Recana Photography for CLEONS
Ninah Snipes | John Recana Photography for CLEONS
Katie Ellis of ELITE | Ty Kyu Photography for CLEONS
The designer, Chad, will debute the video footage from the show tonight on youtube. Check around 10pm central time!
http://www.youtube.com/cleonsbychad
And check out his work on Model Mayhem!
CLEONS on Model Mayhem
Nuru Kimondo.
A name that some may recognize but many, MANY people of the fashion industry in Chicago, IL know of her talented photography work. I've been fortunate to be able to work with models from ELITE modeling management and Agency Galatea together with Nuru almost every week this summer. She is SO passionate about fashion photography, and she's still in HIGH SCHOOL! Her work is so beautiful and she has a beautiful personality as well. Here are a few shots we've taken through out this summer.
Eve of Agency Galatea
Eve of Agency Galatea
Eve of Agency Galatea
Eve of Agency Galatea
Markita
Markita
View more photos on her Flickr and Model Mayhem Pages :)
Nuru's Flickr Page
Nuru's Model Mayhem Page
Check the next blog for more stuff!